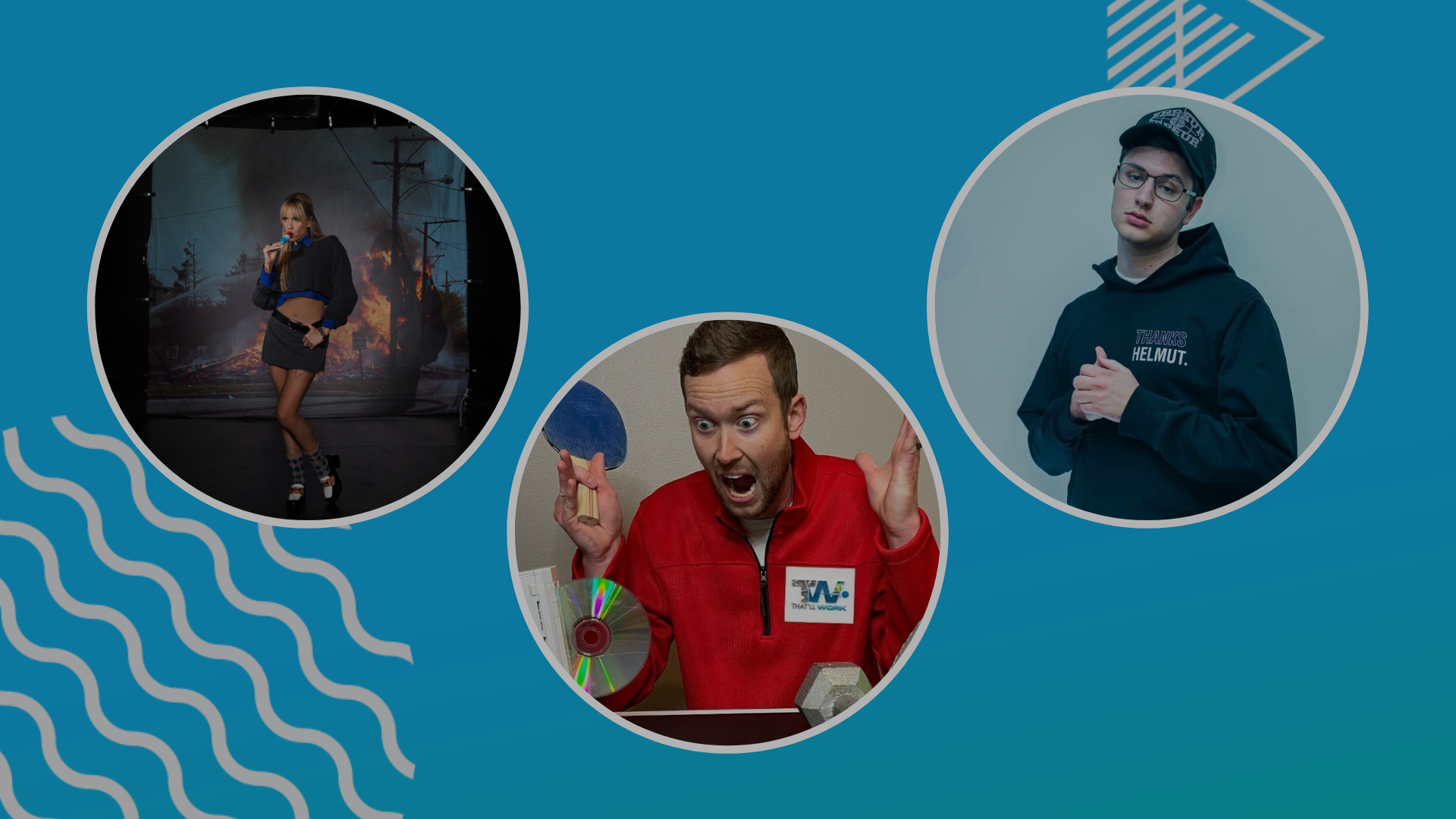 BBTV Staff Picks: Translating Your Personality & Passion Into Authentic Content
Return to the blog
In this edition of BBTV Staff Picks, we're looking into three talented creators and artists in the #BBTVFam that have strong connections with their fans by staying true to their personalities, and are dedicated to exploring new ways to create content outside of the box.
That'll Work: Peter Permack, Talent Manager
Mike Shields is the owner and the mastermind trickshotter behind That'll Work. Mike has done a phenomenal job of creating unique content in a crowded space by allowing his personality to shine in his videos. His genuine passion and love for making can't-miss content is felt by his viewers. He has built a loyal audience with exciting, innovative concepts that continue to wow his audience.
Mike's content resonates with me because of the time and dedication he invests to create a single video. Mike has put in countless hours to complete a single trick shot; it's the passion for growth and results that sticks with me the most. The second reason his channel shines above the rest is his unique approach to trick shots.
Sports trick shots are one of my favorite forms of content on YouTube. While Mike does thrive in that area, he's constantly coming up with new ideas that elevate his presence above and beyond your average trick shot creator.
A recent favorite of mine is Mike's double-door trick shot. It's an impossible shot, but he got it done! Mike's passion for his content, combined with his intense desire to be successful, makes me come back for more.
Since99: Thom Lafeuille, Operations & Business Development Specialist
My pick for this month is Since99, a rapper & content creator from Ann Arbor, Michigan who came to prominence when he released "Immaculate" on YouTube with his friend & collaborator, BasedNas, in May 2020. The song went viral, gaining traction from large platforms such as Desus & Mero, amassing over three million YouTube views and over four million streams on Spotify. 
Some time has passed between his viral moment, but Since99 has not stopped putting out content in the form of songs on DSPs and videos on YouTube. He has received co-signs from Lil Uzi Vert, Kenny Beats, and even Drake. Outside of the fact that Since99 looks like Cole Bennett's step-brother and has a comical delivery, he is a talented rapper, flowing over beats effortlessly while sampling some of the most nostalgic songs and classic hits. This past week, Since99 released his newest EP titled Punch-Ins & Parlays, which has him speed-rapping over a variety of Plugg-influenced beats with that same nostalgic feel. In fact, singles such as "How Will Did Chris" sampled the original Fresh Prince of Bel Air theme song, and the final song "Slipping Away" sampled Sade's "Sweetest Taboo".
Since99 further proves he has a level of self-awareness through the subject matter of his lyrics. However, the best thing he released in the past week was a song that doesn't even appear on the EP: a collaboration with Mississippi rapper, CFN Kid, titled "Terrific". The Michael Jackson sample is superb, and both CFN Kid & Since99 put in work in each of their verses with references to Popeye and Andre Iguodala shooting 3s.
XYLØ: Daniel Quintero, Design & Creative Development Manager
Drum roll, please! The Design team's pick this month is here! Give it up for the queen of dark pop, XYLØ, aka Paige Duddy (yes, we're featuring her again). All focus is on the long-awaited debut album 'unamerican beauty', which was recently released on June 10th. Her unapologetic lyric-driven songs cover themes of loneliness, self-discovery and feeling like an outsider. Give it a listen here!
Opposition's design team supported the album's release by creating visuals in a retro VHS style that harmonized perfectly with XYLØ's vision for her first full-length project.
That'll Work, Shine99, and XYLØ put their true selves in the limelight by dedicating countless hours to their projects, or producing content that is authentic to their stories through their delivery or lyrics. Fans resonate with creators that keep it real; relatability is a key factor in keeping audiences engaged for the long haul.

Want to deliver authentic content without sharing too much, or falling into the trap of lip service? Partner with BBTV to work with our industry experts! Our dedicated team will help you build a genuine connection with your fans by translating the elements that you're most passionate about into content that speaks to your fans interests.
Blog CTAs
Stay Updated
Get access to the latest industry info and expert advice for your digital video strategy.
Sign Up