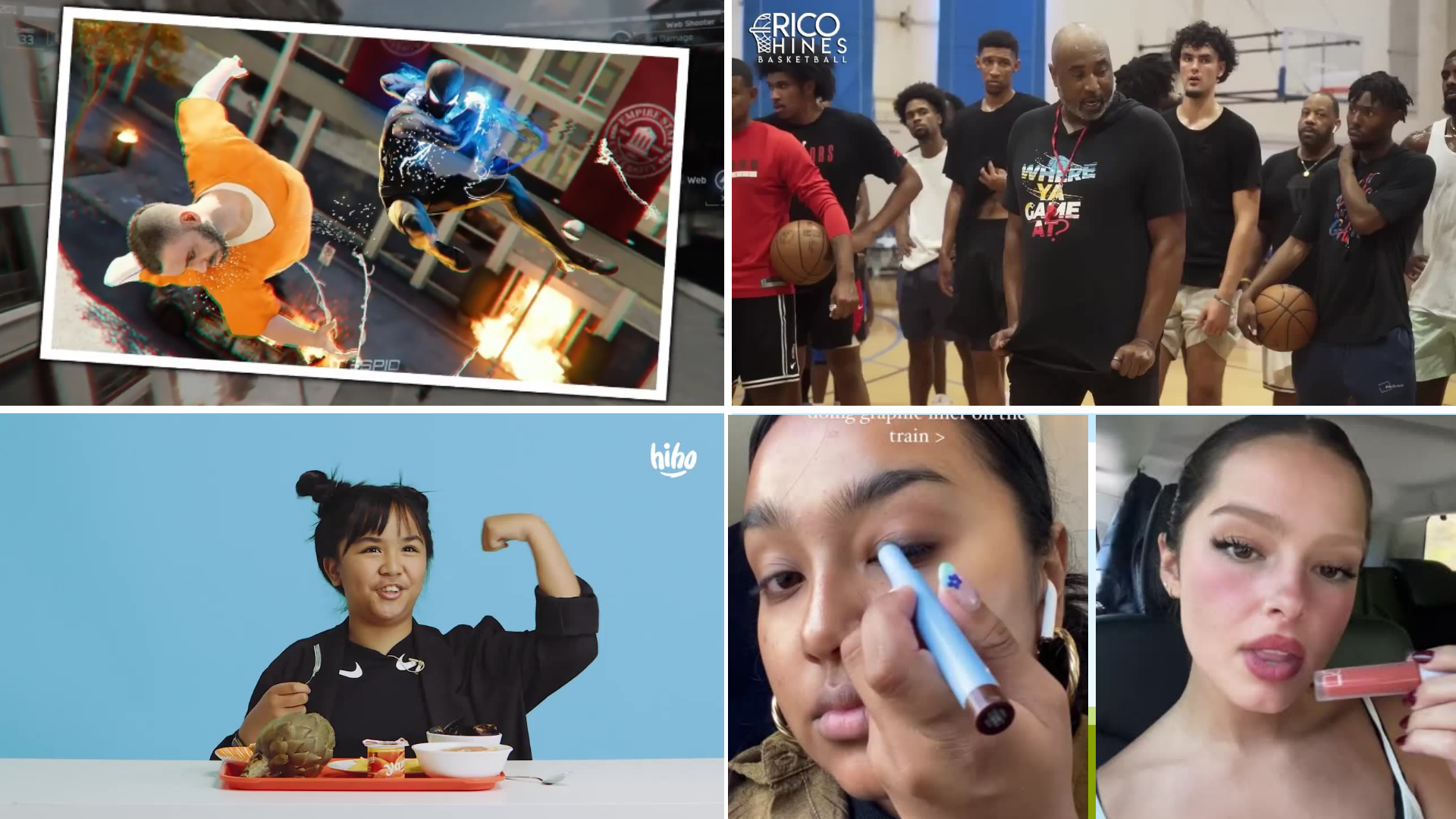 Here's All The Trending Content From August 2022
Return to the blog
As we say goodbye to Summer and say hello to Fall, new seasonal fashion trends, video game releases, and back to school content are dominating social media. We've compiled the latest and most popular trends from the last 30 days to inspire your content strategy, giving you new ways to produce authentic content that your fans will love!

Want to know more about what's trending today? Subscribe to our mailing list and access to our full Content Trend Report.
BEAUTY AND LIFESTYLE
5 of the Coolest Beauty Trends for Fall 2022
We're enjoying the Summer heat as much as we can, but the truth is, the Fall season is right around the corner. Hypebae is predicting 5 cool and trending beauty trends that you should try for the Fall! We can safely say you can stick with fresh, skin-first faces, eye embellishments and graphic statement eyeliner looks.
#CampingLife Content
The Summer and Fall seasons are a great time to go outside and touch some grass. So, grab your tent, visit your local trail or camping ground (or travel to a beautiful camping destination) and use the trending hashtag #CampingLife to share your camping experience! Viewers are looking forward to content highlighting gorgeous views, camping hacks, must-know tips, and even camping food.
GAMING
Marvel's Spider-Man Remastered Gameplay + Mod Showcase
Marvel's Spider-Man Remastered was finally released on PC, and modders have had a field day with new suits, animations, reshades, and character customization. Different gamers and Spider-Man fans have taken to YouTube to showcase their latest and most favorite mods. Which one is your favorite? Highlight some of the best mods on Peter Parker and his universe and expect to see a boost in viewership and engagement!
Twitch Will Now Let Partners Stream on YouTube & Facebook
Big news – live streaming giant, Twitch, will now allow multi-platform streaming! This is a huge development in the live streaming world, allowing creators and streamers to reach multiple audiences at one time. Check out the full story here.
ENTERTAINMENT
"_____ but it came out in 2007"
This hilarious Twitter trend has everyone in a chokehold; people are taking their favorite movies and dubbing Linkin Park's "What I've Done" over their endings. Taking a little stab at Michael Bay's Transformers now, are we? These videos are getting tons of engagement across platforms and some of our favorite movies are getting a makeover!
"Man on the Street" Content
Go around town with your mic or your phone, and ask random people on the street different questions. Boom, you've got a popular video! "Man on the Street" content has been popular for years, but it's been trending on YouTube Shorts and TikTok recently.
MUSIC
VEGGIBEATS MASHUP
ABBA's classic hit "Gimme! Gimme! Gimme! (A Man After Midnight)" mashed up with Boogie Wonderland has gone viral, from dance challenges and 'toxic' scenarios to fashion reveals and transitions. Try using this sound in your next video!
Top Trending Songs from August:
Nicki Minaj – "Super Freaky Girl"
Armani White – "Billie Eilish"
Johnny Cash – "Ring of Fire"
Rosalia – "Bizcochito"
Blackpink – "Pink Venom"
FAMILY AND KIDS CONTENT
Back To School Time!
Now that the kiddos are back in class, we're exploring back to school content. Some of the most popular content themes are:
Trying different cafeteria food around the world
The night before school routines
This Is What I Pack For My Kids' Lunch
After School Routine
Throwback To Top Foods, Shows, and Music That'll Make You Feel Like a Kid Again
Remember the days when you used to come home, turn on the television and watch your favorite cartoons and shows? Remember the days of jamming to old school Nelly or Avril Lavigne? (Feeling old yet?) Everyone is throwing it back to their favorite shows, food, music, and activities and it's making us feel nostalgic!
SPORTS & NBA PLAYMAKERS
NBA Players Playing at Pro-AM's Across the Country
Every Summer, different trainers, celebrities, former NBA players, and brands hold Pro-AMs, a miniature all-star game featuring current NBA stars, music artists, overseas professionals, and more. With the Drew League, The CrawsOver Pro-AM by Jamal Crawford, Seattle Pro-AM, and much more making a return, basketball lovers are sharing their reactions and commentary of these high-profile games. If you can show up live and catch footage, expect it to go viral across Twitter, TikTok, Instagram, and YouTube; everyone is loving Summertime basketball content right now!
NFL Quarterback Patrick Mahomes Has Arrived in 'Fortnite'
If you love NFL football and Fortnite, this is for you. Now, players can play as Patrick Mahomes in the popular multiplayer game, Fortnite, and everyone is sharing their thoughts and reactions to the unique collaboration. Simply playing as the NFL star will help you gain new eyes to your content!
Want to learn about more viral, trending content like this? Join our mailing list to get access to the full in-depth Content Trend report and connect with BBTV to learn how you can join our creator network.
Blog CTAs
Stay Updated
Get access to the latest industry info and expert advice for your digital video strategy.
Sign Up