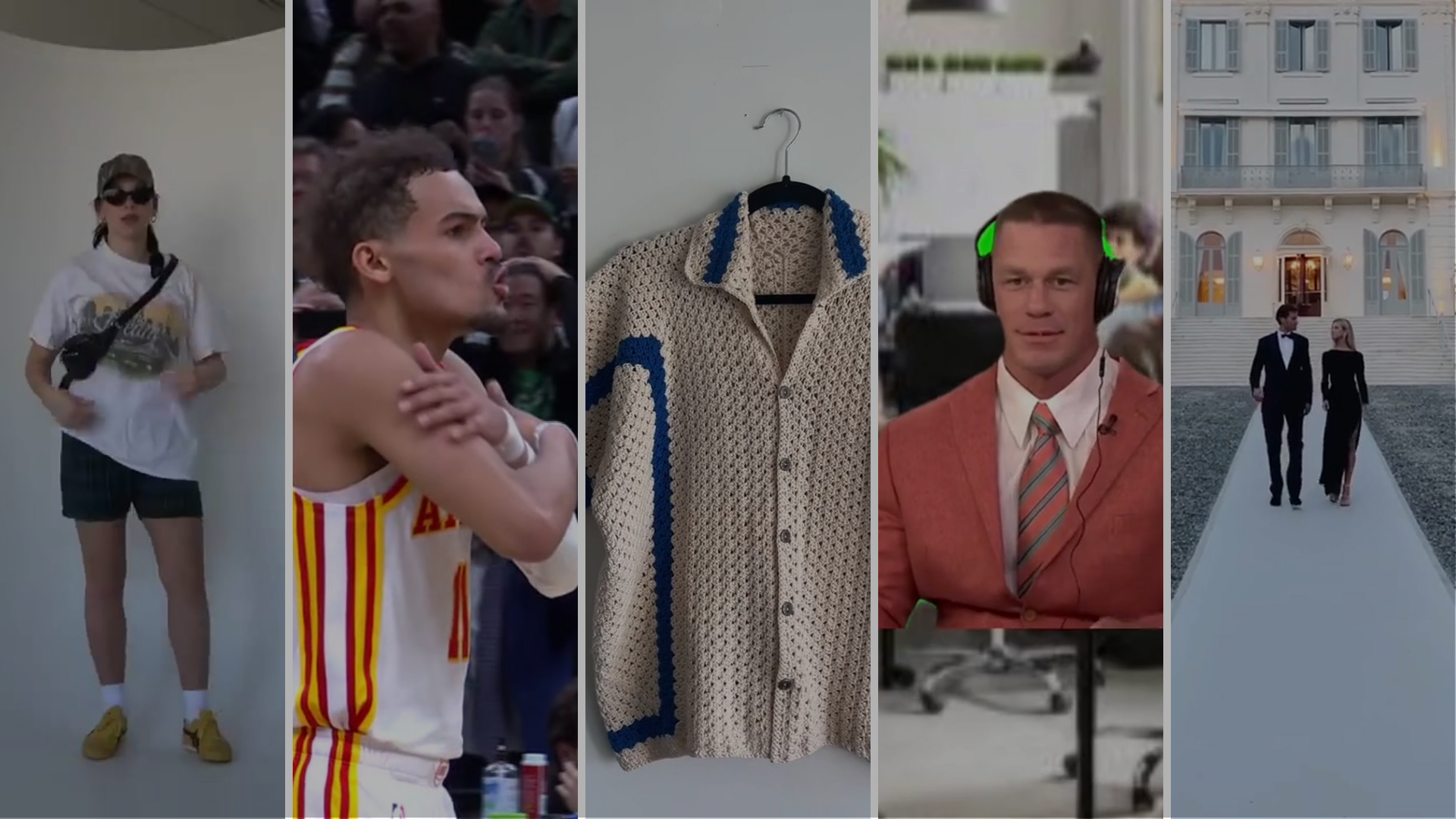 Top YouTube & Social Trends from April 2023
Return to the blog
The last 30 days have been a wild ride for content creators and fans. We've seen some major trends rising to the top across YouTube and social media, from John Cena's Capcut and all things Coachella 2023, to the NHL and NBA Playoffs. Many creators are incorporating these popular content themes into their strategy to leverage their popularity and engage new fans. On the other hand, brands are looking to align their campaigns with these moments to reach the biggest audiences.
Want to know what's going on in the world of YouTube and social media? Keep reading for this month's top trends. You can also subscribe to our mailing list for full access to our Content Trend Report.
John Cena Capcut
Think about a positive scenario from the past, or something that made you smile. For example, when your boss tells you to cold call someone and they don't pick up. That's a small win, right? Or, you're assigned the middle seat on your flight but the other two seats are free–that's something to be excited about! Well, John Cena's Capcut edit is the perfect little video to illustrate the small wins! With over 24.8 million searches for "John Cena Capcut" on TikTok alone, with hundreds of videos going viral using the edit, this is a good time to engage waves of fans in a funny and entertaining way.
Coachella 2023, Music Festivals | Inspo Trends
Coachella 2023 had all of us in a frenzy, and don't worry, it's not about Frank Ocean botching his set.
Between festival fashion looks and home cooking to GRWM and packing videos, everyone was on the lookout for inspiration. Although the event is done, there's a strong sentiment that Coachella content will live past the summer, as viewers will save this type of content and refer to it for the festival season. So, continue to post anything to do with Coachella 2023, cause we're going to need it for the next few months!
The Legend of Zelda: Tears of the Kingdom | Commentary, and Feedback
Slated for release on May 12, The Legend of Zelda: Tears of the Kingdom is one of the most highly-anticipated games of the year. 
While the game isn't open to the public, plenty of creators are reacting to new gameplay content slowly being released to the fans. From what you've seen so far, what do you think of the game? Do you have any initial thoughts about gameplay, graphics, or the storyline? Fans want to know what others think before they buy the game; help them out and either tame their excitement, or encourage them to go all out on day one!
Meal Prep + Food Hacks Trends
Spring and Summer means beach days, shorts, tank tops, and vacations. Everyone is preparing for that Summer body, so it's no surprise that meal prep and healthy food hacks are emerging as one of the most consumed topics of content online.
Everyone loves food, right? But, if you're trying to stay summertime fine, indulging in your favorites isn't exactly helpful. Fitness creators and foodies are sharing their meal prep ideas and food hacks to help audiences get healthy and look good ahead of the warmer days.
Who knew chicken, rice, and broccoli could actually taste good?! What are your go-to recipes? We want to know!
The 2023 NHL and NBA Playoffs
Between the fiery first round of the NHL Playoffs to the unbelievable upsets happening across the NBA postseason, fans are enjoying every second of playoff season.
While fans are moving further and further away from watching the live broadcast, they're still getting their fix of the action through their favorite creators. How? Mixtapes, podcasts, commentary, and challenges; all without having to sit around for hours!
Cover the postseason games and the highlights that millions of fans around the world are tuning in for; you should see a significant jump in your content's performance. If you're not much of a basketball or hockey head, you can leverage the conversation happening around the playoffs and integrate sports culture, from sneakers and game day experiences to arena food reviews and more!
Want more content ideas and relevant trends and updates to continue to elevate your strategy? Subscribe to get on our mailing list for full access to our 30-Day Content Trend Report. Also, reach out to our team to work with industry experts that'll support the growth of your content and your channel.
Blog CTAs
Stay Updated
Get access to the latest industry info and expert advice for your digital video strategy.
Sign Up