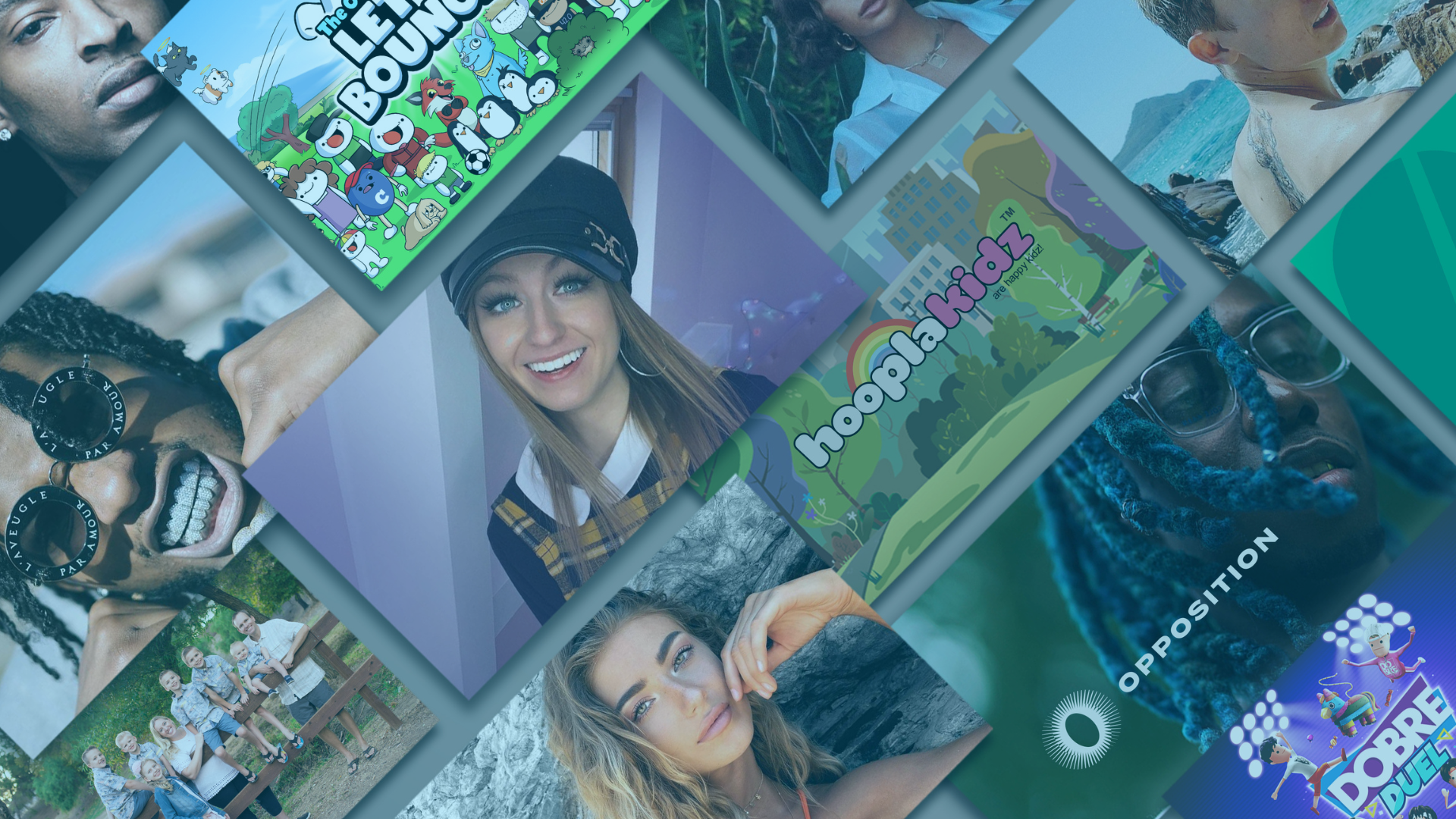 What Should You Look For In a Creator Network?
Return to the blog
With over 50 million creators around the world, everyone–including you–stepping into the world of digital content needs a hand when trying to turn a passion into a livelihood.
Did you know, it takes creators over six and a half months on average before they finally earn their first dollar from their content? YouTube superstars aren't born overnight and are rarely a one-person effort. While content creation breeds creativity and freedom, it has also become a highly competitive market. 
What separates you from the competition? There are some key elements to think about when planning your content strategy and setting your business up for success:
Revenue Diversification
Content & IP Safety
Industry Expertise
Creator Services & Tools
Genuine love and care for your content
That's where a creator network comes in; a vital part of the creator economy, built to help you attain high level success across these pillars. As the number of creators grows, so do creator networks. Creator networks exist to help rising and established content creators and influencers navigate their career choices and grow their brand for a share of the revenue. Nowadays, they're key to the growth of your content strategy and your overall business thanks to hands-on support, robust services and industry expertise. 
Just like any business, not all creator networks are built the same. Some offer very specific expertise while others provide comprehensive services. To gain your partnership, some businesses will offer the world and more.
We break down the core elements of a creator network worth partnering with–one that'll prioritize both your values and success as a creator first. 
Diversifying Your Revenue Streams
Can your creator network support the expansion of your content strategy and leverage it to diversify your revenue streams? As you continue to grow, you have an opportunity to enhance your personal brand. In fact, your creator network should be able to support you in:
Adopting a multi-platform presence and/or multi-format strategy
Creating a path to partner with brands for branded entertainment, sponsorships, and revenue through direct ad sales
Financing your growth through creator funds and programs
Creating new digital experiences for fans, such as a mobile game
Limiting your brand means a lot of potential revenue and opportunities left on the table. Digital content evolves every single day, and as you grow, you have the potential to transform your content strategy into a multi-faceted business based on the audience you've amassed. A creator network worth partnering with will have a strong history of helping creators like you expand and invest in your growth, ultimately earning you more money. 
A Good Creator Network Will Keep Your Content Safe
Another major challenge as you make a name for yourself online is protecting your content. 
If your content doesn't adhere to community guidelines or terms, you'll be fighting an uphill battle. Without content safety top of mind:
You won't be able to monetize your content, which means zero dollars from AdSense flowing into your bank account.
Your content discoverability will decline, deterring platforms from recommending your content and ultimately interfering with opportunities to reach and engage new viewers.
Brands will stay very far away from your channel, halting any opportunities for branded entertainment, sponsorships, or ambassadorship.
Basically, you'll have a hard time finding success and making money. When considering a creator network, it's important to know if they have a support team, technology, or programs that can provide insight on your channel. Can they help flag whether your content is deemed inappropriate, unsafe, or risky? Can they provide recommendations for changes to improve the brand-safety of your content? Can they also moderate fan-uploaded content to ensure integrity and monetization potential? If so, that's a huge win and a sigh of relief for your channel. 
Whether or not you're a creator who has a good understanding of copyright and community guidelines, it's a good idea to work with a business that offers a variety of technology-powered solutions that will cover the whole nine yards when it comes to the safety of your content.
Industry Knowledge & Inside Information
It's crucial that you are surrounded by experts who live and breathe the world of digital content, offer a wealth of proven knowledge, and are up-to-date on the latest trends to elevate your content strategy. Your network, for example, should be able to share new updates to YouTube before anyone else, educate you on different social media algorithms, and offer key practices that have results with creators within your space.
Traditional talent agencies lack the strong relationships with YouTube or Facebook that creator networks have taken years to build. Creator networks that are truly industry experts will share the latest news and updates directly from the source, giving you a head start in adapting your content strategy as things actively change across platforms.
If you have access to information directly from insiders at key platforms such as YouTube, Facebook, TikTok, Twitter, or Discord, you will be several steps ahead, helping your content strategy beat similar creators to the punch.
Access to Quality Programs and Services
The right creator network will offer a variety of essential services and programs to offload the behind the scenes work so creators can focus on making great content. This could be in the form of first or third party services and apps, video editing programs, data analysis, social media management, resource libraries for stock photography and videography, and more.
The idea is to make content creation for you enjoyable, convenient, efficient, and most importantly, lucrative. If a creator network can provide you with services that make it easy for you to edit videos, gain insight on data to improve your content, and/or ensure your videos are monetizable, you've checked off box number one.
As an example, BBTV provides creators with exclusive discounts or free access to powerful platforms such as: 
Epidemic Sound – Rights-free tracks and sounds
VideoBlocks – Millions of high quality stock videos
JumpStory – High performing visuals and stock imagery
Hootsuite – Multi-platform account management
Measure.Studio – Social media dashboard with data and insights
What each network offers varies, but what will actually lead to your success ultimately comes down to what you need the most. Access to powerful creator tools will help the efficiency of your creation process, maximizing the quality of your content and your path to success.
Do they ACTUALLY care about you? 
It's more than just a service. It's all about relationships.
Making money by sharing your passion is a luxury many don't have. However, between community engagement, copyright management, mental and physical burnout, and the pressures that come with content creation, being a creator is proven to be both time consuming and taxing.
From a technical aspect, your creator network should provide support and expertise to enhance your business, but, they should also provide genuine support and care for you. A creator network that truly cares will go the extra mile to form a connection beyond your content. Whether that's through 1-on-1 sessions with a creator growth expert, a support team willing to answer all of your burning questions, or a talent manager checking in as they bring you new opportunities, your creator network will make the effort to be by your side throughout the often difficult realities of content creation.
At the end of the day, monetary success is one of your biggest goals–if not the biggest. But, if the people within your creator network aren't invested in you beyond the cash, you may need to reconsider if they genuinely care about your success.
To sum it up, your creator network should provide a clear value to not only your business, but your personal goals. Aside from must-haves like revenue diversification, content and IP protection, tools and services, and expert support, if the people collaborating with you on a daily basis aren't as genuinely invested in your personal goals outside of the business, you'll fall victim to lip service and an unhappy partnership.

For over 17 years, BBTV has navigated the constantly changing landscape of digital content. However, one thing has stayed consistent: helping you make the content you love more valuable. As an industry veteran, we've seen creators–big and small–reach milestones far and wide, because our experts are fully invested in your goals first and foremost. Get in touch with us if you're looking to partner with a creator network that'll genuinely support your passions, with a proven track record in growing your digital business.
Blog CTAs
Stay Updated
Get access to the latest industry info and expert advice for your digital video strategy.
Sign Up